ARTISAN ABODE BLOG | ISSUE 001 | 10/12/19 | 4 Minute Read
Susan Folwell of Design Studio Artisans and Artists and Artisan Abode talks about the magic of carpets, beautiful buildings and tea.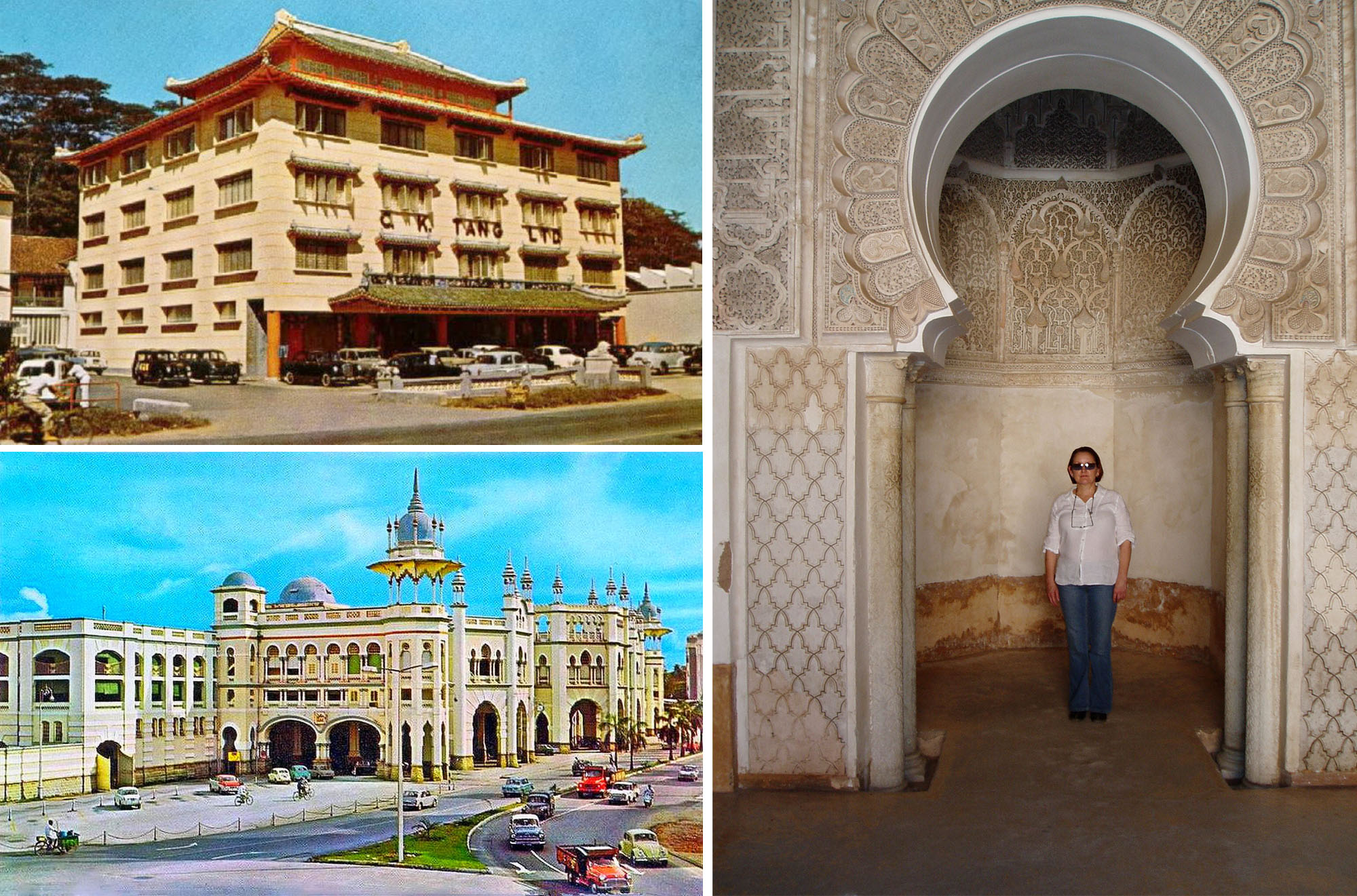 Clockwise from top left: C K Tang's eponymous store in Singapore 1960's. Susan Folwell enjoying the detail and scale of architecture in Marrakech. Kuala Lumpur Railway Station 1960's Malaya.
My love affair with carpets started very early in life and has never waned. As a child I lived in the Far East with my parents in the 1960's / 70's, my mother was a keen collector of beautiful furnishings, especially oriental carpets. Each expedition to purchase a new carpet was carefully planned and precisely carried out and the rituals involved in the exercise always impressed me.
Measurements were taken of the space in question and these were noted down in my mother's notebook prior to our journey into Kuala Lumpur to a favoured carpet dealer (my mother was loyal in her purchasing and was rewarded with some excellent pieces) or, when in Singapore, to Mr C K Tang's eponymous store in Orchard Road. Whizzing along in a large taxi we saw intricate wooden houses and temples, as well as ornate architectural statements such as the Kuala Lumpur railway station or Mr Tang's store modelled after the Imperial Palace of the Forbidden City in Beijing.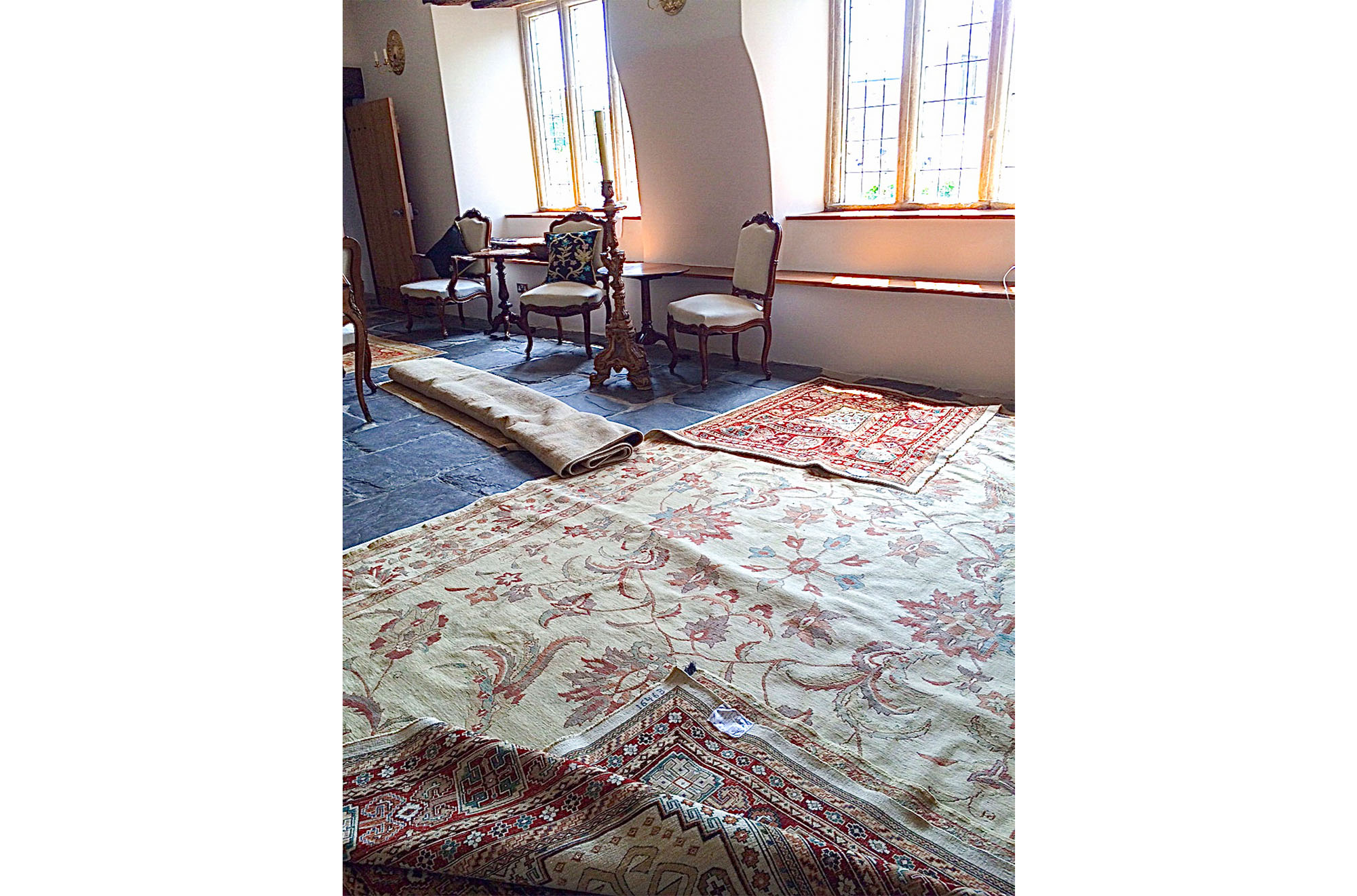 Zieglar carpets being chosen insitu in a manor house interiors project carried out by design Studio Artisans and Artists.
Choosing Carpets
My mother taught me an early lesson in how to choose and buy the very best carpets. "Always take your time, look carefully and do not rush. Never buy the first one that you see unless you still love it when you have seen them all, look carefully and you will soon be able to tell the good from the bad.", she would say as we sat down to review a number of carpets. In turn each one was placed before us and their story told, the symbolic meaning of the designs, the essence of the dyes, the type of silk or wool and the weaving process. Choosing carpets involved drinking small glasses of tea, in Malaya this was oolong tea (a rolled and dried green tea).
I would discover later in life that beautiful scenery and buildings, buying carpets and drinking tea seem to go together around the world.
Carpet sizes were considered, colours contemplated and quality checked. Once a carpet was decided upon a process of bartering was customary. "Only barter for things that you really want, barter firmly but fairly.", my mother would say. The chosen carpet would be carefully rolled and a cover hand-sewn around it before it was placed in (or on the roof of) the taxi for the ride home where it would be laid out in the allotted space and it was always perfect. The foundation was laid for my work later in life as an interior designer.
A well-chosen carpet can make a room, pulling it all together somehow and creating an atmosphere that is exotic, magical, serene, welcoming and relaxing all at the same time. It can be as simple as a cowhide on bare floorboards, a tribal weave kilim with stories to tell, an exotic Ziegler, or a modern sculptural creation that shimmers beneath your feet.
Over the years I have purchased many carpets for myself and many more for clients. I have applied the principles that my mother taught me all those years ago and carpet buying is always an adventure.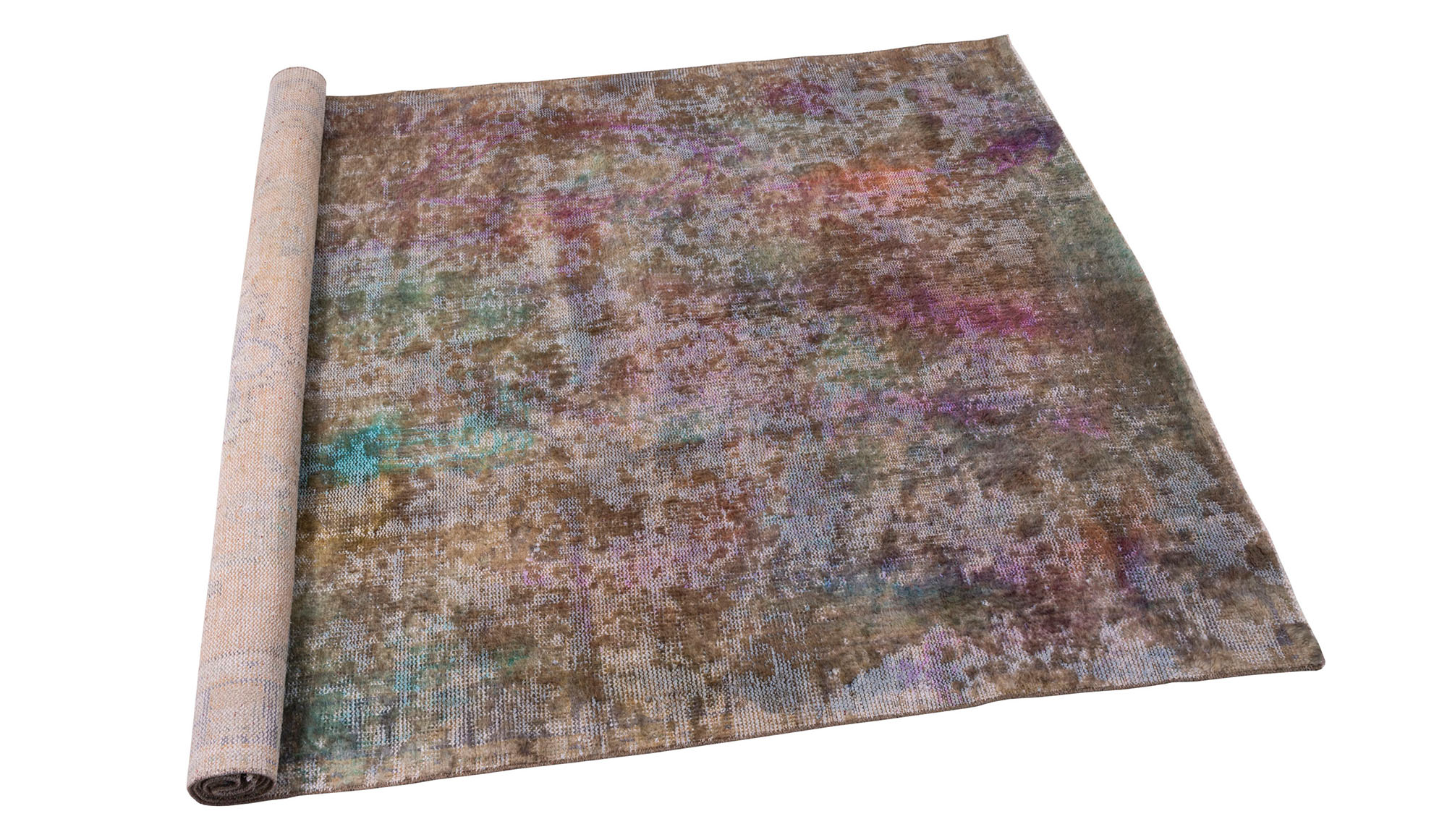 Rug Molina – a Turkish abstract over-dyed rug available at artisanabode.co.uk
Istanbul and Apple Tea
Trips to the Byzantine, Genoese and Ottoman melting pot that is Istanbul resulted in the purchase of exquisite mohair kilims. Woven on traditional portable looms these carpets are narrow due to the nature of the looms but when expertly hand-sewn together the resulting look is bohemian and luxurious. More recently, abstract over-dyed rugs from Istanbul caught our eye and made their way to the showroom. Best chosen whilst drinking apple tea.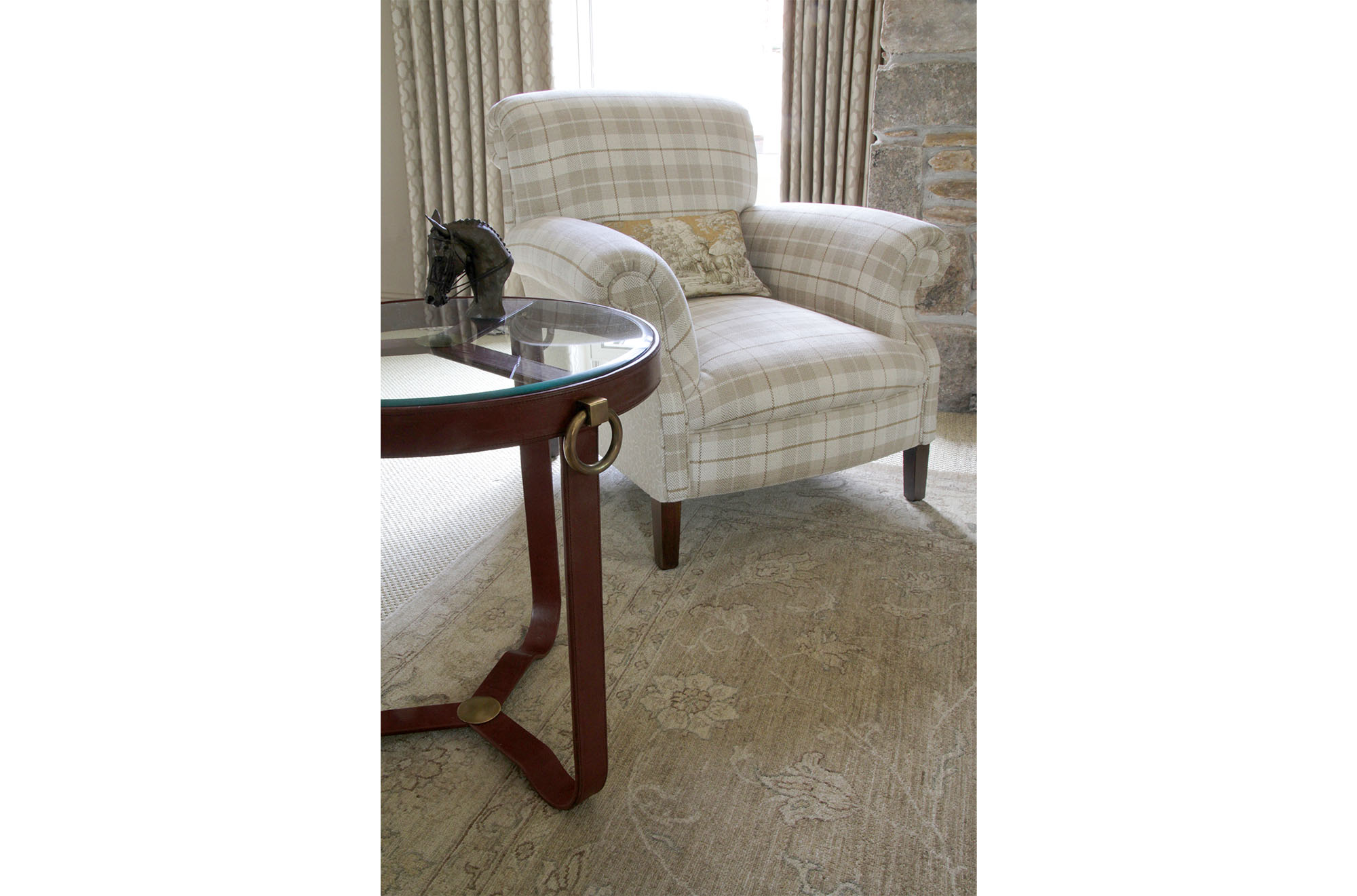 Muted elegance of an Afghan Zieglar installed in a country house drawing room interiors project by design studio Artisans and Artists.
Muted Elegance
The Afghan Ziegler is a firm favourite of mine. The name is taken from the Anglo-Swiss trading company that operated weaving workshops in Sultanabad in the late 1800's, supplying Liberty & Company and Harvey Nichols. Auction prices of antique Ziegler rugs can be very high, mainly due to the fact that the mass production of the late 1800's produced rugs did not measure up to the finer quality of the traditional Persian carpet, hence finding an antique Ziegler in good condition is rare.
I have been buying modern Ziegler carpets for many years from an Afghan family of long-established carpet weavers and traders. These rugs are of exceptional quality and produced using traditional methods. Large area rugs are their speciality and I have placed these carpets to great effect in private libraries, drawing rooms and sitting rooms. In keeping with the Ziegler tradition these rugs have evolved to follow the trends of interior design and today the carpets display soft colours, subtlety and muted elegance. Once woven the carpets are carefully washed, the resulting aged but soft and glossy patina means that you can buy a new rug that already has that comfortable lived-in look.
The purchase of such a carpet is a delight for clients. We often pre-select and ship in three large carpets to be reviewed insitu at home where a careful decision can be made over a cup of tea.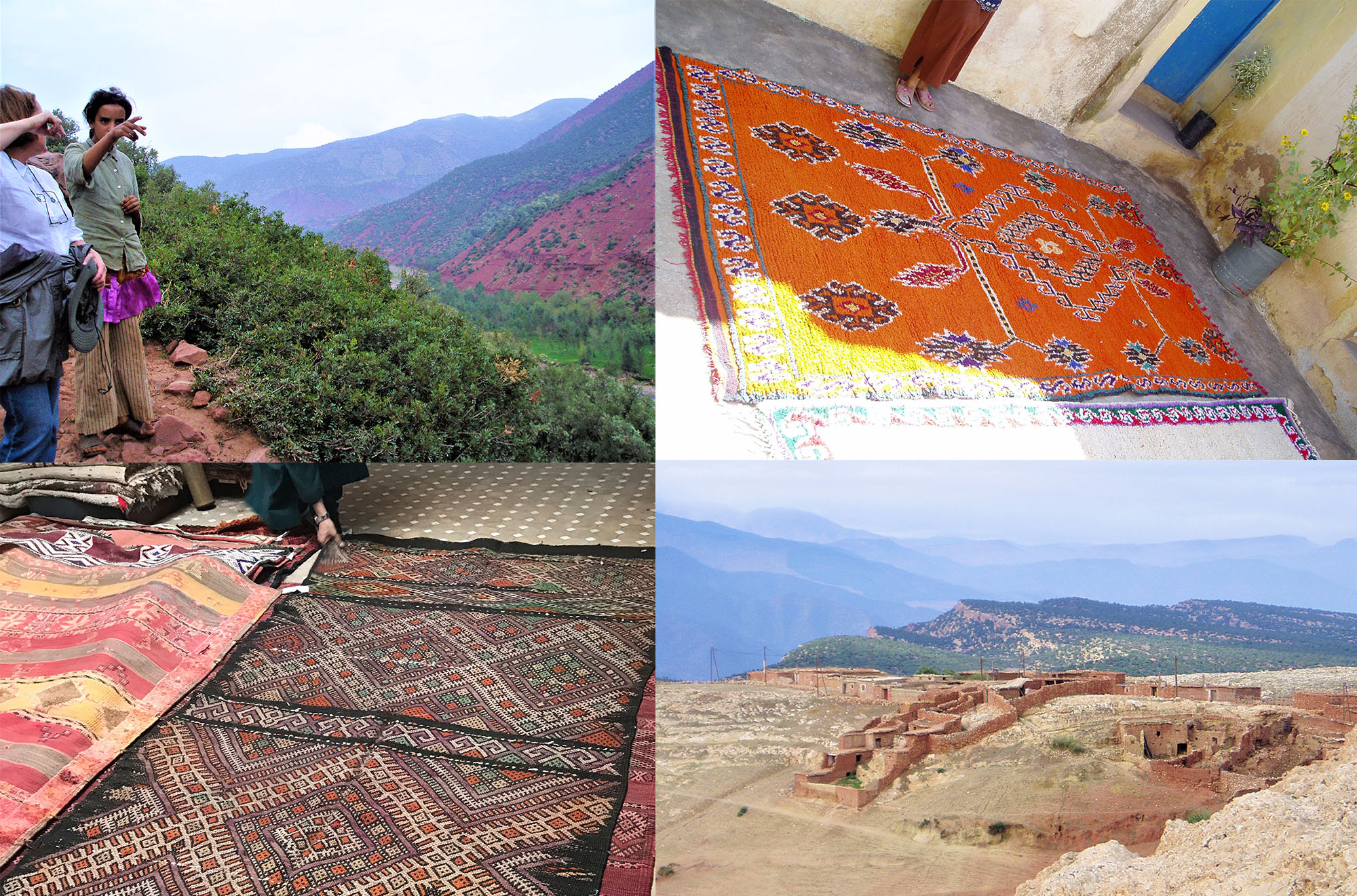 Clockwise from top left: In the Middle Atlas in Morocco seeking directions to a remote Berber village renowned for carpet weaving. Meeting the lady weavers at home in the Middle Atlas. Striking but discreet Berber architecture in the Middle Atlas. Choosing carpets in Tangier for the showroom and artisanabode.co.uk
Tribal Weaves and Mint Tea
The tribal weaves of Morocco have always been fascinating. Mostly woven by women, these carpets feature distinct motifs (mainly relating to fertility) and weaving techniques vary from tribe to tribe. The Beni Ourain tribe of the remote Middle Atlas weave a striking, large, archaic looking white-ground pile carpet. A group of women from the tribe will work the carpet in shifts and have free reign as artists for each carpet. The wool is from local sheep (one or two sheep can usually be found wandering in the weaver's house). When weaving a large carpet the woven part is rolled up and for reasons of superstition the weavers cannot unroll the woven part of the carpet until the entire carpet is completed.
Carpets tribally woven in Morocco are said to contain baraka, meaning the weavers have woven good blessings into the carpet.
I have lived and worked in Marrakech and purchased many carpets for clients from the bustling carpet shops in the souk, or privately in shaded riad courtyards from one of the "carpet pashas" of this beautiful trading city and have climbed up into the Atlas mountains to search out the tribal weavers of these magical carpets.
Yet again beautiful buildings have been a part of the journey. The astonishing Berber village houses of the Atlas (almost invisible to the eye for purposes of defence) and the intricate detail and pleasing symmetry of Islamic architecture never fails to amaze me. Of course, lots of mint is tea involved when carefully choosing Moroccan carpets.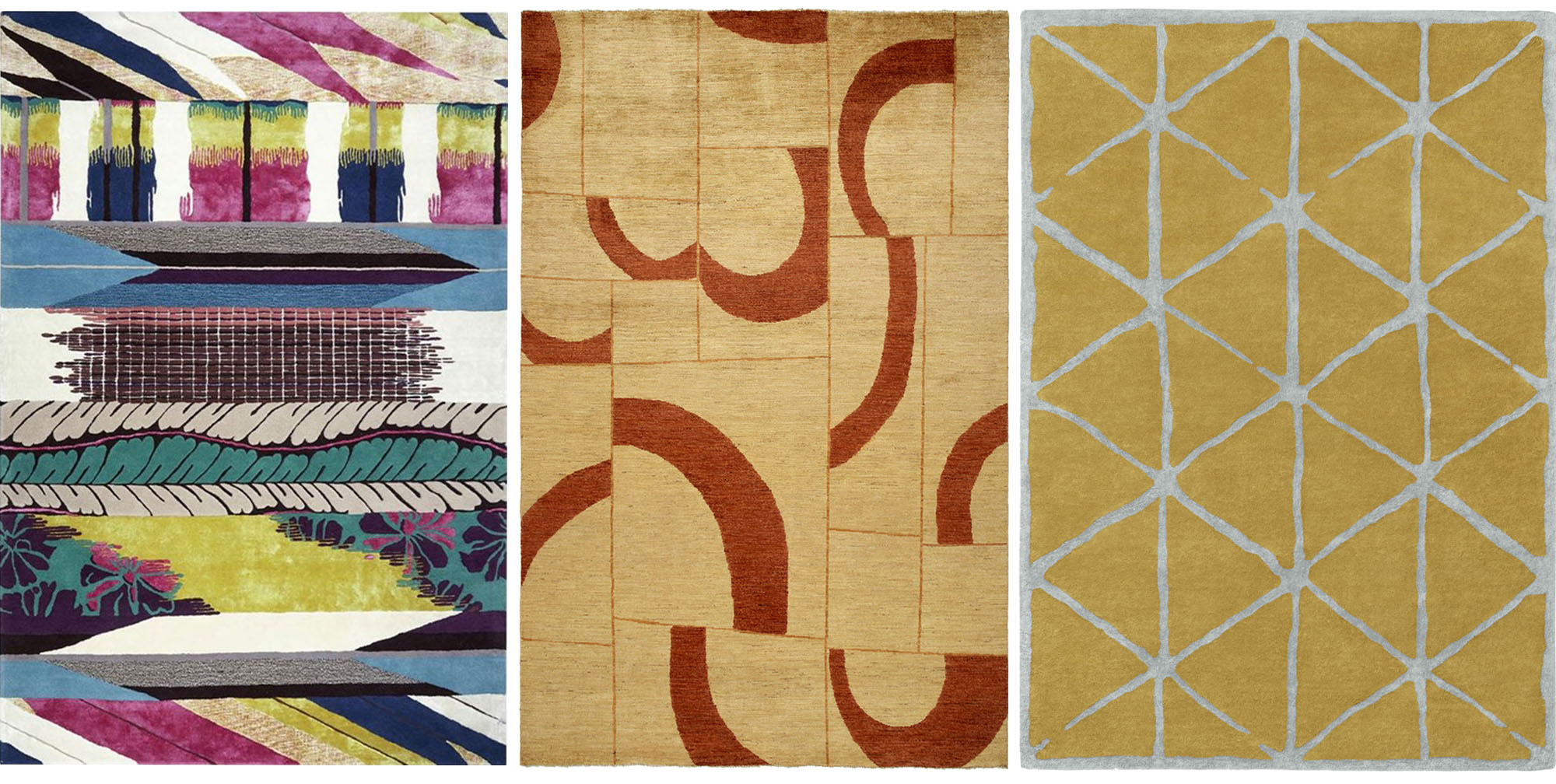 From the left: Modern luxury by Christian Lacroix. inspired by antique Japanese kimonos. Bauhaus inspired rug by Nobilis Paris. Berber inspired rug by Villa Nova. All available at artisanabode.co.uk
Rug shown on the front cover of this issue of Design Eye is by Nobilis - Rug Holi in a rose and ochre colourway
Modern Luxury
The love affair with carpets, for me, extends to the uber soft, modern luxury creations from Christian Lacroix Maison, Nobilis Paris and Villa Nova, all of whom produce the most beautiful carpets in various sizes, textures and colours. These modern rugs are just as enticing as the hand-woven carpets that first captured my heart as a child and can add that element of magic to a space. You are spoilt for choice with such carpets so may I suggest a cup of Darjeeling whilst a careful decision is made.
Copyright © 2019 Artisans and Artists Limited